Bushcraft backpacks make your outdoor adventure easy, safe, and comfortable to enjoy more with all of your essentials. These backpacks are designed for hiking, camping, hunting, fishing, survival, tactical, and any emergency use. This is the best investment if you frequently move outdoor for any journey.
Best bushcraft backpack featured a separate room for adjusting everything from survival gears, clothes, outdoor tools, food, and water. There are also separate and hidden pockets inside for adjusting weapons, knives, and other self-defense tools. There are various backpacks for single-day or multiple-day trips in the market.
In this bushcraft backpack review, we will comprehensively review a few reliable, comfortable, affordable, and spacious backpacks and also share a few tips to help you choose the right backpack according to your outdoor activity.
This is a versatile and multiple storage section backpack with an elegant design. If you want a heavy-duty backpack for camping, hiking, hunting, or any other purpose then it is the best choice ever. It has a round design with spacious internal and external storage spaces for multi-day trips to any place.
This is made with Nylon 210D and Cordura 500D which provides ultimate performance, quality, and resistance to environmental hazards. This is lighter, comfortable, and easy to maintain during any outdoor adventure.
On the internal side, it has a main compartment with two big pockets for adjusting large size gears, clothes, camping tools, and other equipment. This is covered by a flap with a quick-release buckle system for safety and comfort. The internal mesh pocket is featured zips for adjusting medium-size gears.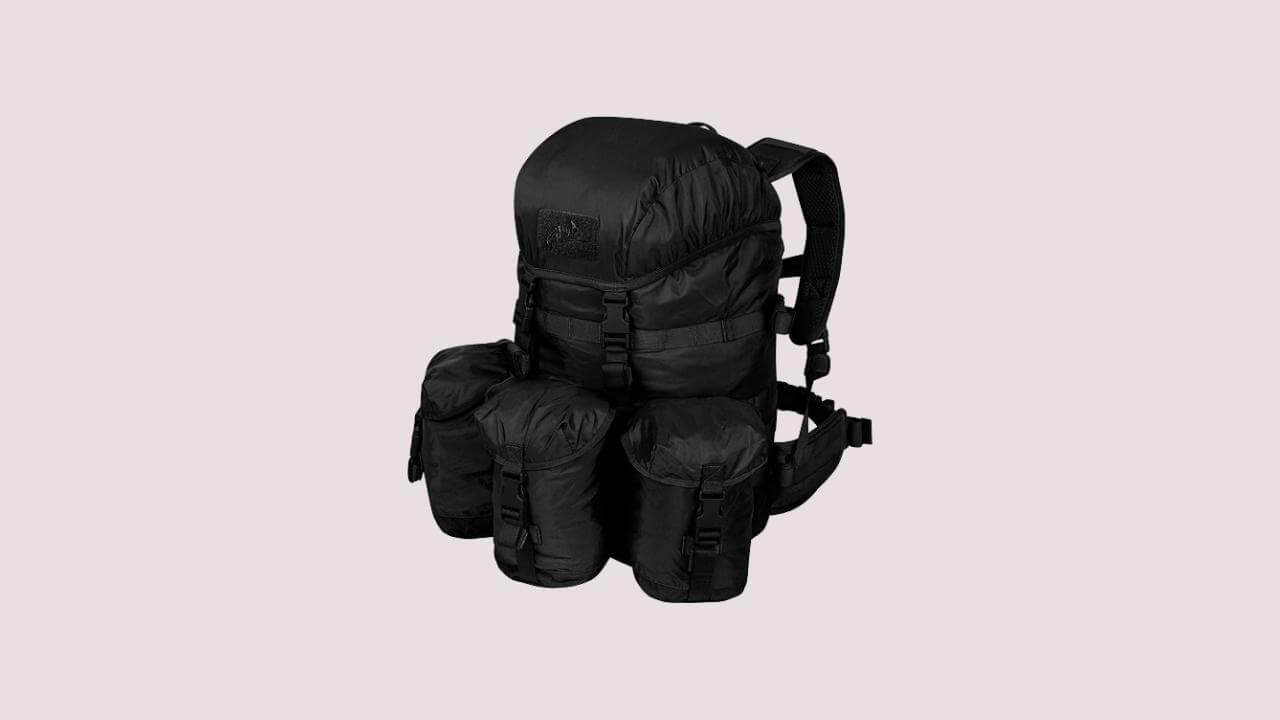 For carrying it in your hands there is also a top carry handle. This is also featured some extra features like a waist strap, Molle webbing system, security buckle, reinforced bottom, and hydration bladder compatibility. On the external side, there are 3 pouches for use as water bottle pockets and other miscellaneous gears.
Each pocket is also featured an extra drawstring strap that provides extra protection for your inner gears. On the external surface, the PALS Molle webbing system is used for adjusting extra gears. The padded shoulder straps come with a D-Type hook for adjusting the sleeping bag for camping or bushcraft adventures.
The zippers are made with YKK material which is soft, comfortable, and easy to pull. The overall capacity is 35L with a weight of only 3.67 Pound. There are also compression straps on both sides which are used for organizing the best bushcraft bags.
The hip belt is perfect for hiking, trekking, and running purposes to keep your backpack close to your body for comfort as well as the safety of your gears. This is designed for individuals that need large storage space for adjusting a different kind of gear. It is all in one gear for any outdoor activity.
Pros
Durable Nylon Material
Buckle Closure System
Molle Webbing Panel
Have 35L Of Capacity
Padded Hip & Shoulder Straps
This is specially designed for survival, tactical, camping, hunting, and bushcraft activities. The tactical bushcraft backpack is wide, durable, and offers the ultimate protection of your gears for any outside adventure. It features various internal and external pockets for adjusting multiple gears like arsenal, knives, food, clothes, tech items, and anything else.
This is well organized by large size compartments, medium size pockets, side slip pouches, and different adjusting hooks. If you have a lot of gear to carry for a multi-day adventure then it will be your best companion. Each and everything in the best bushcraft backpack is made with high-quality material for long life and to avoid any wear and tear.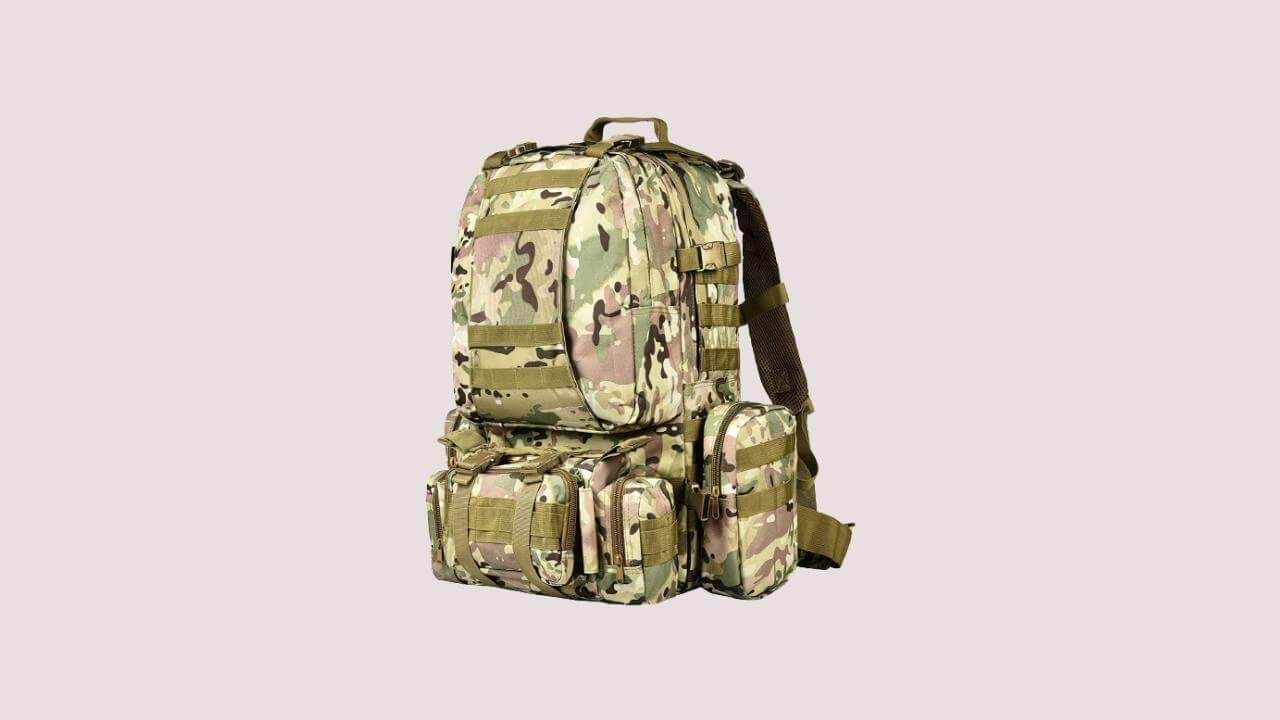 The backpack featured 600D Polyester as the main body material with internal lining for additional safety and scratch resistance to fragile items. Other materials like zippers and security buckles also offer durability, comfort, and smoothness for opening or closing. Overall, the bag offers a total capacity of 60L which is huge as compared to any other.
The whole bag is a zipper closure which is perfect for maintenance as it will prevent any dust from entering into the backpack. It consists of one main compartment with inner side pockets, two external side pockets, one front pocket, and one lower pocket. This is featured a top grab handle and a flap with buckle closure for the safety of internal gears.
The Molle webbing system is very helpful for adjusting more gears. The side pockets are useful for carrying water bottles of smaller sizes. The straps are padded and mesh with 13" size along a hip belt for keeping near to you. Additionally, it is featured a dual compression strap and a folded end weaving belt for keeping your gears safe and secure while running, walking, or hiking.
The best bushcraft bag
is highly recommended for survival kit backpack, 3-day assault pack, range bag, hunting backpack, army camouflage backpack, survival backpack, camouflage army backpack, hiking trekking backpack, camping bushcraft rucksack, outdoor backpack, or day pack for daily use.
Pros
Wear Resistant Material With Internal Lining
Zipper Closure Pockets
Tactical Design
Padded & Mesh Design Straps
60L Of Capacity
Molle Webbing System
This is a lightweight and stylish backpack with large size. With various internal and external straps including hip, waist, sternum, and shoulders, you will remain comfortable throughout your journey without feeling tired. This is super comfortable, convenient, and handy to use for any outdoor activity like hiking, camping, bushcraft, and trekking.
The huge capacity backpack is equally important for both men and women due to its versatile and lightweight structure. This is made from high-quality, durable, water and tear-resistant material Polyester Fabric, perfect for unexpected weather conditions.
Still, after having a water-resistant material, it is also coming with a separate rain cover that will keep your internal gadgets safe from rain or moisture. This has 40L of capacity which consists of various interior and exterior compartments, pockets, and side pouches for adjusting outdoor gears.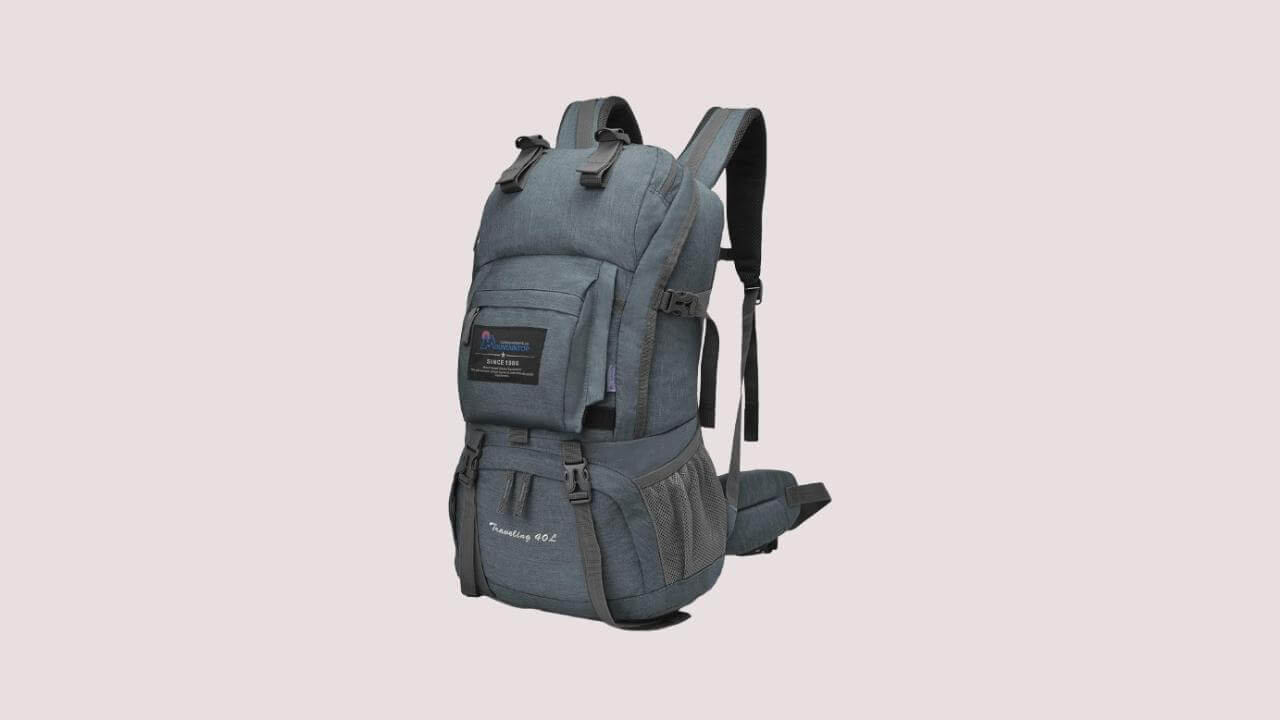 It has one spacious main compartment which can be easily accessible in hurry from the bottom pocket. The main compartment can easily adjust a 17" laptop. There are 3 front pockets and 2 side pockets for carrying medium and small size items. The side pockets have a mesh design for carrying water bottles to keep you hydrated during your adventure.
On the top side, it is featured a buckle closure strap for security purposes. The YKK zippers with the closest design keep your essentials safe from dust, water, or anything. The back panel, shoulder straps, chest strap, waist strap, and sternum strap have padded structures to keep you comfortable as well helpful in saving your items from external shocks while hiking, trekking, running, or walking.
The chest and waist straps are also helpful in distributing the weight of the best bushcraft backpack all over your body. External compression belts help carry trekking equipment, sleeping bag, and other extra gear.
Pros
Best For Both Men & Women
Have 40L Of Capacity
Comfortable and Breathable
Water-resistant Backpack
Comes With A Rain Cover
Ultra-Light Backpack
Cons
There Are No Compression & Sternum Straps
This is a multipurpose and compact backpack that is featured an elegant design. This is versatile and considered perfect for any outdoor activity like hunting, trekking, survival, camping, hiking, bushcraft, traveling, and more. This comes in 3 different color collections black, Uni-terrain C, and coyote.
It is perfect for long-distance traveling and 3-day trips with spacious internal storage space. The storage space is divided into various internal pouches, compartments, and side pockets that are extremely helpful for better organization and ease of packing.
It is made from 600D Polyester Fabric which is durable, tear-resistant, and water-resistant. As the bag has to use on outdoor trips so it is extremely important to have a water-resistant backpack. This is perfect for both women and men. The overall capacity is 80L which is enough for a 3-Day outdoor trip with lots of gear.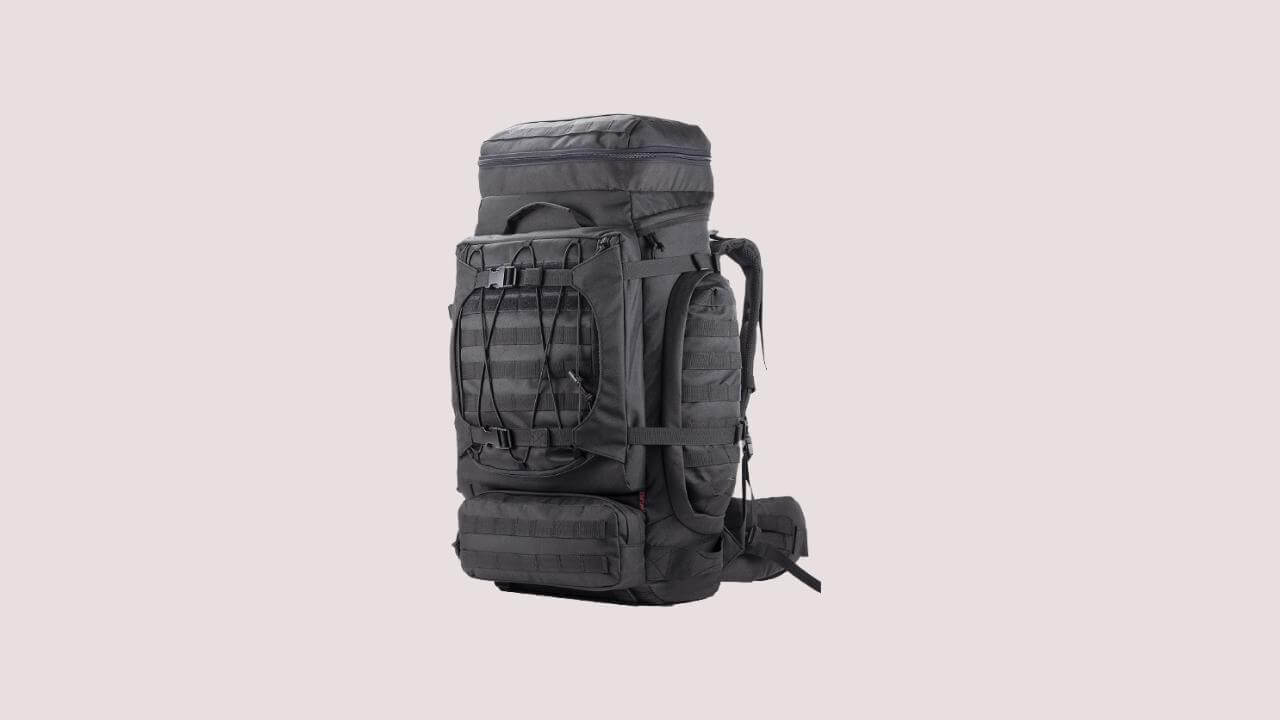 It is featured one main compartment, lid compartment, one bottom pocket, two front pockets, and two side long zipper closure pockets. The large main spacious compartment is usually used as a top-loading section for carrying clothes, shoes, camping gear, electronics gadgets.
The bushcraft backpack with axe holder backpack is compact and closed with side compression straps for keeping your gears safe from any external shocks to avoid damage. It is also featured a mole webbing system that is perfect for attaching more items like a sleeping bag, camping gear, camera pod stick, umbrella, and tent.
On the external side, it also features side pockets, a bottom pocket, and a top front pocket for smaller and medium-size quick gears essentials. Two comfortable grab handles, ergonomic and padded shoulder straps with a padded hip belt are extremely helpful for keeping you comfortable while going on your way.
This best bushcraft backpack has perfect for weight distribution with its multiple internal pockets and compartments that are designed for specific purposes.
Pros
Extra Large & Organized Backpack
Have 80L Of Capacity
Compression, Hip & Shoulder Straps
Multiple Options To Choose
Best For Survival, Trekking & Hiking
Dual-Handle To Carry
This large size backpack is specially designed for travelers, hikers, hunters, and other survivalists. This has wide internal storage with a waterproof external surface that is equally important for both men and women in any outdoor trip like hiking, camping, climbing, traveling, cycling, fishing, trekking, fishing, hunting, and bushcraft.
High quality and durable material with ultra-lightweight structure help you to go for any outdoor trip with all your essentials with comfort and convenience. This has a total capacity of 50L and 1.65 Pound of weight.
This is made from high quality, waterproof, wear resistance, and lightweight nylon fabric material along with polyester combination. The is tough and reliable and can carry 22 Pound of weight easily. The padded, ergonomic, and comfortable surface gives you a convenient journey to any of your outdoor adventures.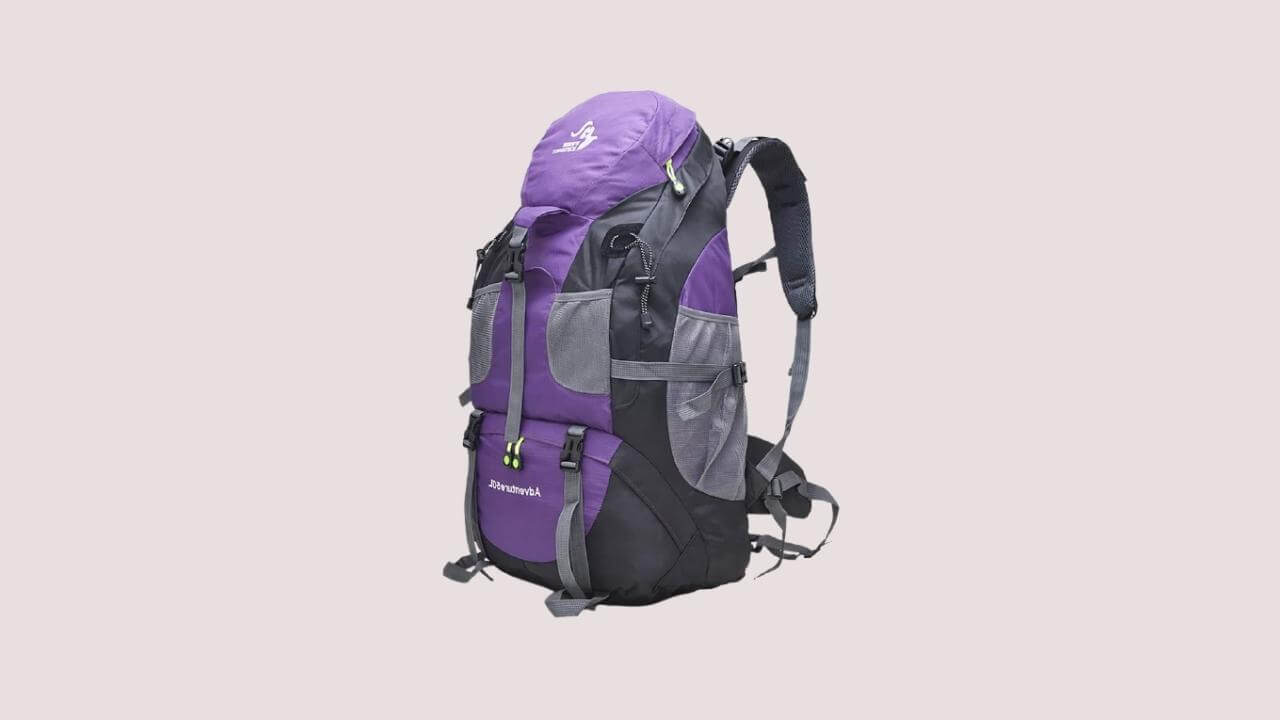 The back panel of the bag has a plastic mesh surface for ventilation and comfort. It is also featured an S-Type clip that is used for attaching additional gears like a sleeping bag, tent, camping gear, and more. The pack has a zipper closure system with a tight compact structure to avoid any loss of equipment especially while running, trekking or hiking.
The interior backpack featured a spacious main compartment, multiple pockets, and smaller pouches for easy organization and time-saving. The capacity is enough for 3 to 4 outdoor trips. With 4 adjustable straps including shoulder, waist, and compression straps, you will remain comfortable throughout your journey.
All your internal gadgets will remain safe and secure from any external shocks, bumps, scratches during any outdoor travel due to these straps. Two side pockets for carrying water bottles with easy and quick access. The best bushcraft backpack is present in 10 attractive and unique color collections.
Pros
Comfortable Backpack
Multiple Pockets
50L Of Capacity
Padded & Mesh Shoulder Straps
Soft & Durable Zippers
Multiple Color Collections
Cons
Need Proper Packing Skill
This comes with a durable design and waterproof material which is perfect for outdoor trips. This has a wide vertical structure with a compact and close design for the safety of your tools. The load-bearing capacity and reliable structure make it a perfect choice for camping, hiking, hunting, and any outdoor adventures.
Ideally, the bag is designed for camping and hiking purposes. The external surface is smooth with a few mesh pockets for adjusting water bottles. Due to its compact and convenient design, the budget bushcraft backpack offers great control over the backpack.
This featured rip-stop polyester fabric which is water-resistant and has a high strength to bear any wear and tear. This has a huge load-bearing capacity which is 88 Pound very high as compared to other backpacks. The bag has 50L of total capacity with multiple internal pockets and compartments.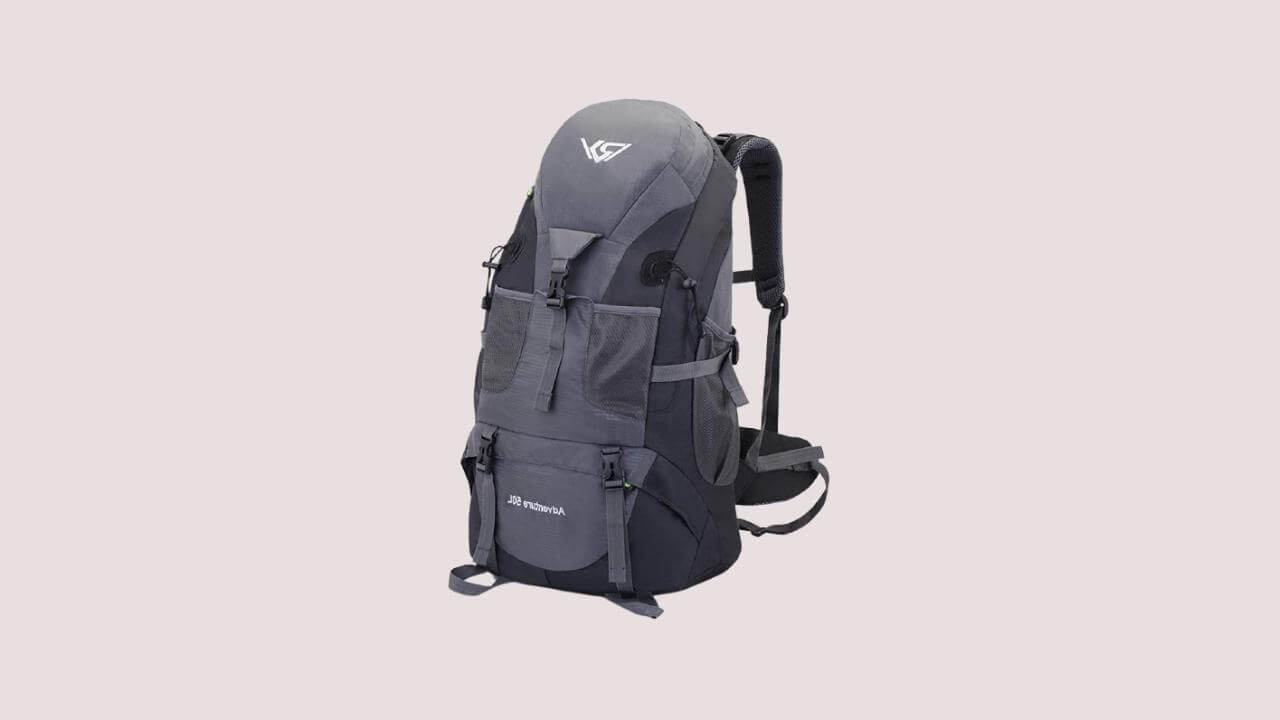 It is also featured an internal lining for additional safety of your outdoor gears. The shoulder straps are padded which also featured a D-Shaped hook for adjusting more items to the bag like a sleeping bag. The front adjusting hook is used for hanging trekking poles, camping tents, hiking gears, or anything else.
The back panel has complete ventilation support for user comfort and convenience. Another excellent feature of the best bushcraft backpack is its lowest budget which offers ultimate durability and strength. This is less expensive as compared to other packs.
This
is only recommended to use in light rain and in heavy rain, a rain cover should be carried to avoid any damage. Sometimes it becomes too heavy while adjusting numerous items, so to keep it lightweight try to carry only limited and essential gears with you.
Pros
Easily Affordable Price
4 External Mesh Pockets
External Hooks For Additional Gears
Internal Lining To Avoid Scratches
13″ Large Shoulder Strap
Best Bushcraft Backpack – Buyer's Guide
Bushcraft backpacks are mostly used for survival or camping in a wild within a severe outside environment. It is essential to look at some factors while choosing the right bushcraft backpack for carrying your outdoor gears with safety and comfort.
Capacity
It is the most important factor for your adventure as well as a long-term investment. By having a large size backpack, you can plan a long-term trip with all your gear instead of carrying any extra bag with you. But if you are going for one day trip then you can go for a medium and small-size backpack.
Purpose
The purpose of use will help you to get the bushcraft pack according to your needs. If you are going hiking then some internal frame backpacks will be perfect for your adventure. If you are looking for survival, tactical, or any emergency task backpack then it should be able to adjust all your weapons, knives, ropes, and other survival tools.
Comfort
The last thing you should check is your comfort and convenience while wearing the bag as well as adjusting your tools. You will get tired during your journey if your bushcraft backpack is uncomfortable. Having extra straps like sternum, compression, chest, hip, and shoulders will help you to remain calm and comfortable.
Conclusion
These are some best bushcraft backpacks that we have chosen based on our personal experience and some industry expert recommendation. Every bag is selected by looking deeply into its feature, material, drawback, and budget so you can get the right backpack by spending only at once.
Please Check Our Latest Review Articles About The Following:

Shoaib is an amazing article writer that has written hundred of an in-depth article with full SEO optimization. He loves to write on travel, tech, and other topics with complete research.