How to Hang A Heavy Bag?
If you are a gym lover and want to do exercise daily then you need a heavy bag for practice. But you don't want to go to the gym daily for exercise with a punching bag. What should you do? You have to carry a heavy bag in your home for exercise.
A bag is heavyweight you can face trouble while hanging the bag in your home. In this guide, we will describe four ways how to hang a heavy bag? A heavy bag is used to strengthen your arms and legs with hard and intense daily training. A punching bag can be a perfect option if you want professional fitness and training.
By successfully installing a heavy bag in your home you can decrease the efforts which you have to make while doing the gym every day. The weight of the bags varies from 25 Pound to 200 very heavy Pound. A punching bag is a necessary part of a home gym.
Knowing about bag weight will help you to understand the roof and the support which the punching bag needed. There are various ways which you can use for hanging a heavy punching bag. The bag will also face some force when you will hit it while doing exercise.
1. Hanging with A Beam
First of all, think about the total space for where you want to adjust the heavy bag. This method will perfectly work in your room or basement as you also have to do exercise daily which also needs some extra space around the bag. For this method, you can choose a ceiling mount or wall mount.
For good exercise, the bag should revolve 360-Degree which can be easily adjustable with a wall mount. The mount should be in the middle of the room to adjust properly. As exercise bags are much heavy so you should find strong support to avoid any breaking. The space between the support beam is 16" and it can be 24" for better mobility.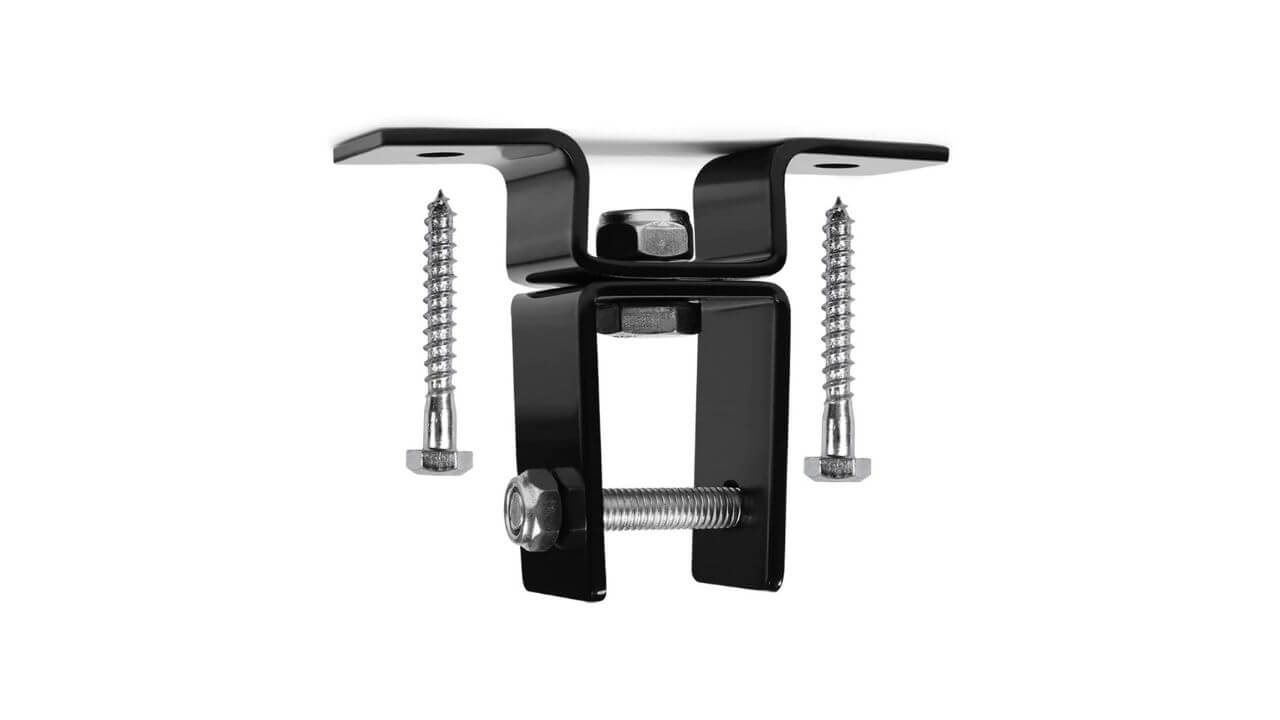 Space should be free from any hollow sound for strong support. You can use measure tape for measuring the distance around the amount. Installing improperly can seriously damage your house roof that's why it is very important to find strong support. After this, drill a hole into a support beam and enter an eyebolt into this hole and tighten it with a wrench.
For this, you should use an S-Hook and you should also avoid using a hook instead of an eyebolt because heavy punching bags can easily fall off hooks due to having heavy weight. Now you can attach the chairs of the bag with the eyebolt and this is ready for doing exercise.
You can also check the support strength by hitting the bag for few times. This is a knock test for your bag strength. If it is secure and you don't feel fragile or a week from any point then you are ready to use this for your daily workout.
2. Hanging with A Mount
If you are interested in more reliable and strong support then you can use this method. This method is more expensive than any other due to using more reliable sources. First of all, find a ceiling joist hanger or beam with the help of a stud finder. Make sure you don't hear any hollow sound around any spot where you want to adjust the heavy bag.
After finding, mark all the points where joist points meet with the help of tape. You need the middle joist for adjusting your heavy punching bag. After this use a drill to hole into the ceiling joist hanger and then attach these joists with a hardwood board.
You should keep all the holes straight during adjustment. You can attach this to the base with the help of these holes. After this, now attach the ceiling mount with the hardwood and don't mount it until you confirm that the wall is not dry.
Now you can attach the bag chains with the mount. The chains reduce the vibrations during your exercise. Now the bag is ready to use and you can check the strength again by hitting the bag several times. This is a stronger method if you are using a bag with a weight between 100 to 200 Pounds.
3. Hanging with A Wall Mount
If both the above methods create difficulties for you then you can use this method. This method applies if you want to hang a heavy bag in a specific room or the above ceiling doesn't fit the bag. This is simple and helps you to adjust this according to your requirements. But this method also has some limitations due to closeness to the wall.
The other limitation of this method is that you can not use this for drywall due to the heavy weight of the bag. This method is also perfect if you want to attach this to the garage. For adjusting a wall mount you need a driller, screwdriver, wrench, bag and chains, nuts, and bolts. This is only suitable for masonry walls that are stronger than drywall.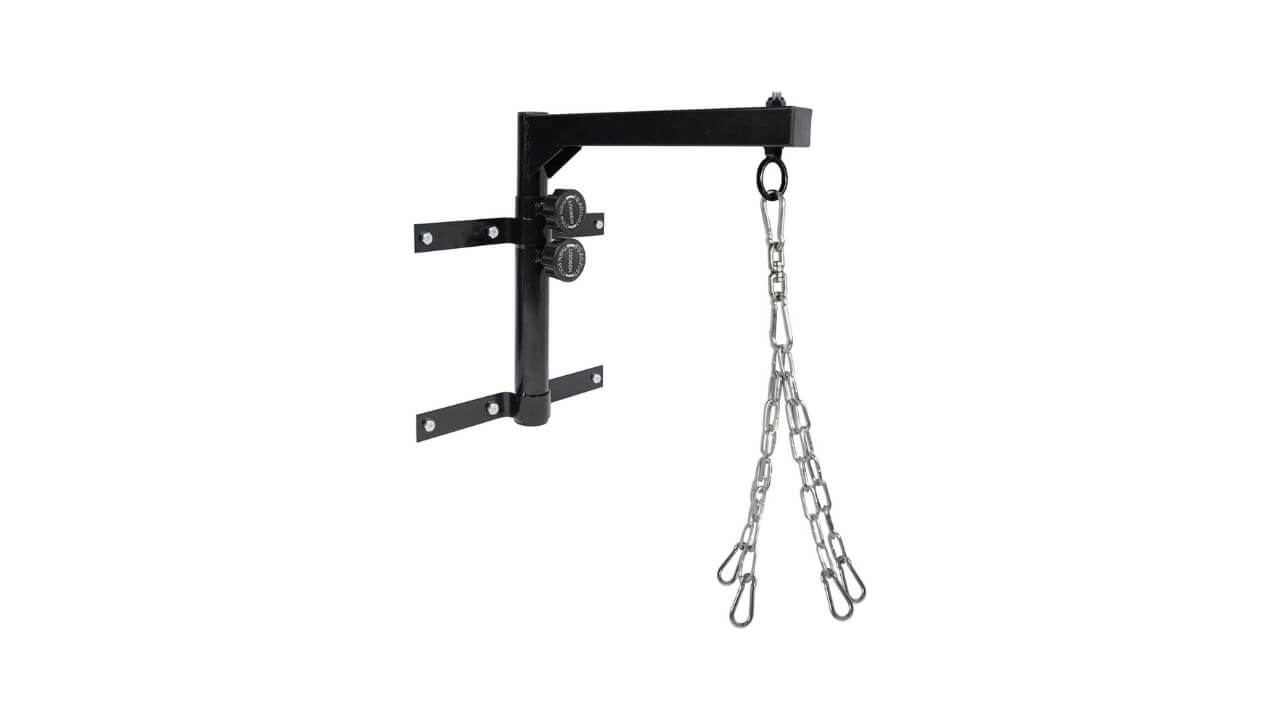 First of all, attach the mount to the wall and mark all the points with a pencil. Remove the mount and now drill the points for the hole on marked points. Now place the mount over the holes and adjust it properly with nuts and bolts. You can install it with included hardware like S-hook. Attach the chains with S-hook and your bag will be ready for exercise.
This method works best for attaching a bag with a weight of 25 Pound to 100 Pounds. After installation, you need to test it by hitting it a few times. If you feel fragile then you need to check the bolts and stand again. This is one of the safest methods because you don't need to worry about your roof and the height of the stand is also lower than the roof.
There is no danger of harming anyone whenever it falls off due to any reason. If you are a professional sportsman and love to do exercise daily then this can be a better option with other gym equipment to adjust in an organized manner.
4. Hanging with A Free Stand
If you don't like to put holes in the ceiling or wall then you can choose this simple and easy method. But this method has some limitations over others. It can be used only for lightweight bags. You need some bottom support for better strength from any vibration. By this method, you can easily convert your garage into a home gym.
To avoid standing from any shaking or fragile movement put some weight on the bottom so you can do the exercise properly. This is also a hazardous method than others as it can be turnover if adjusted improperly. You can choose these types of stands from Amazon according to the size of heavy bags.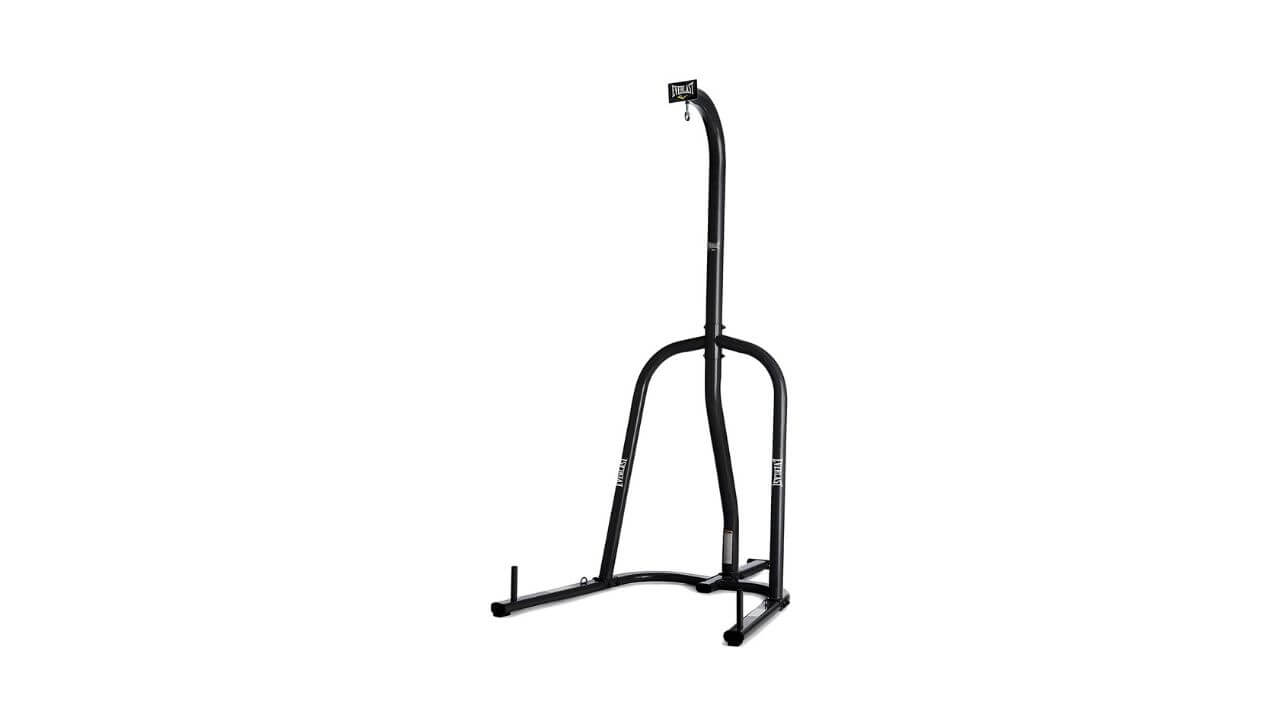 This is very easy and simple to attach the bag withstanding. You can attach the chains with the help of an S-hook to free stand. If you want to adjust the stand according to your office or room requirements then you can also use a stand with wheels.
The amazing thing about this method is that you can also remove the bag when don't need it. This is a portable and simplest way which is present in the market according to research.
Frequently Asked Questions
What Needed to Hang A Heavy Bag?
It depends upon the methods which you want to use for hanging a bag. The most common things which you need are bolts, joist, mount, driller, screwdriver, and a pencil. To attach the bag withstanding or mount you also need an S-hook with the bag chains. You also need a wrench for adjusting bolts tightly. All this equipment can vary from method to method.
How to Secure A Heavy Bag Stand?
To secure a heavy bag stand you have to put some weight on the bottom side. For this, you can attach sandbags to the bottom legs to avoid any kind of fragile. You can also attach heavy iron plates for this purpose.
Make sure that sandbags or iron plates should attach to the bag legs to make it more secure. You can secure your free stand with the help of 3 to 4 sandbags or iron plates depending upon the weight of your heavy bag.
How to Hang A Heavy Bag Without Shaking the House?
If you are adjusting a heavy punching bag between 100 Pound to 200 Pound then you should also be aware of the ceiling or wall of your house. You can use flexible and reliable material to avoid any kind of jerks while doing exercises. For this purpose, you can use rubber tubes on the internal side. Without any precautions, you will feel a serious shake in your house which can be dangerous.
How Much Weight Can A Ceiling Joist Handle?
A ceiling joist mount can bear a weight of 50 Pound in regular ceilings. If you are using a supportive joist or your house is strongly built then there are low chances of getting any issue in your roof or wall. If your house is old then the stress will be more. A joist mount distributes all the weight of the bag across all the sides of the joist.
Please Check Our Latest Review Articles About The Following:

Shoaib is an amazing article writer that has written hundred of an in-depth article with full SEO optimization. He loves to write on travel, tech, and other topics with complete research.